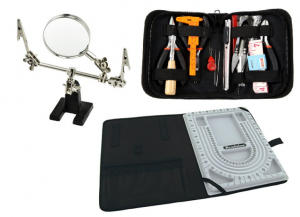 These kits are designed with all the necessary accessories to help any patron create their very one piece of jewelry.  The variety of tools provided should help your patrons create a wide variety of projects.
Age Range: 10 and Up recommended
Consumables:
Any and all wires, string and jewelry beads and accessories.
Items in Kit: 3 sets of each of the following
3 Pliers
1 AWL
1 Thread Cutter
3 Needles
1 Knife
2 Tweezers
1 Plastic Caliper
1 Hook
1 Threader
1 Ring
1 Tape Measure
1 Magnifier
1 Bead Board
Instructions:
Video: