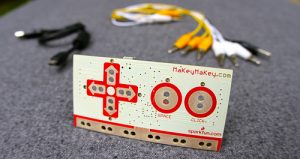 Makey Makey is an invention kit for the 21st century. Turn everyday objects into touch pads and combine them with the internet. It's a simple Invention Kit for Beginners and Experts doing art, engineering, and everything in between. Simply connect the cables to the board and any other conductive material and access any time of game or program on your computer.
Age Range: 10 and up, younger with adult supervision
Consumables:
Some sort of conductive materials, such as play-doh or fruit.
Items in Kit:
1 board
6 White Wires
1 USB cord
7 Alligator Cables
1 Manual
Instructions:
Videos: